It is with a deep sense of fulfillment of purpose that Team Welcare shares the following news:
Welcare Hospital is blessed to have Jagadguru Shankaracharyaji- Swami Nischalanand Saraswati of Jagannath Puri Math- repose his trust in Dr. Bharat Mody for his knee replacement surgery. After searching across India, Gurudev's team decided on entrusting his treatment and safety in the hands of Team Welcare. The surgery was performed by Dr. Mody on 2nd June. Gurudev is recovering well and will be made to stand up and take the first steps on 3rd June.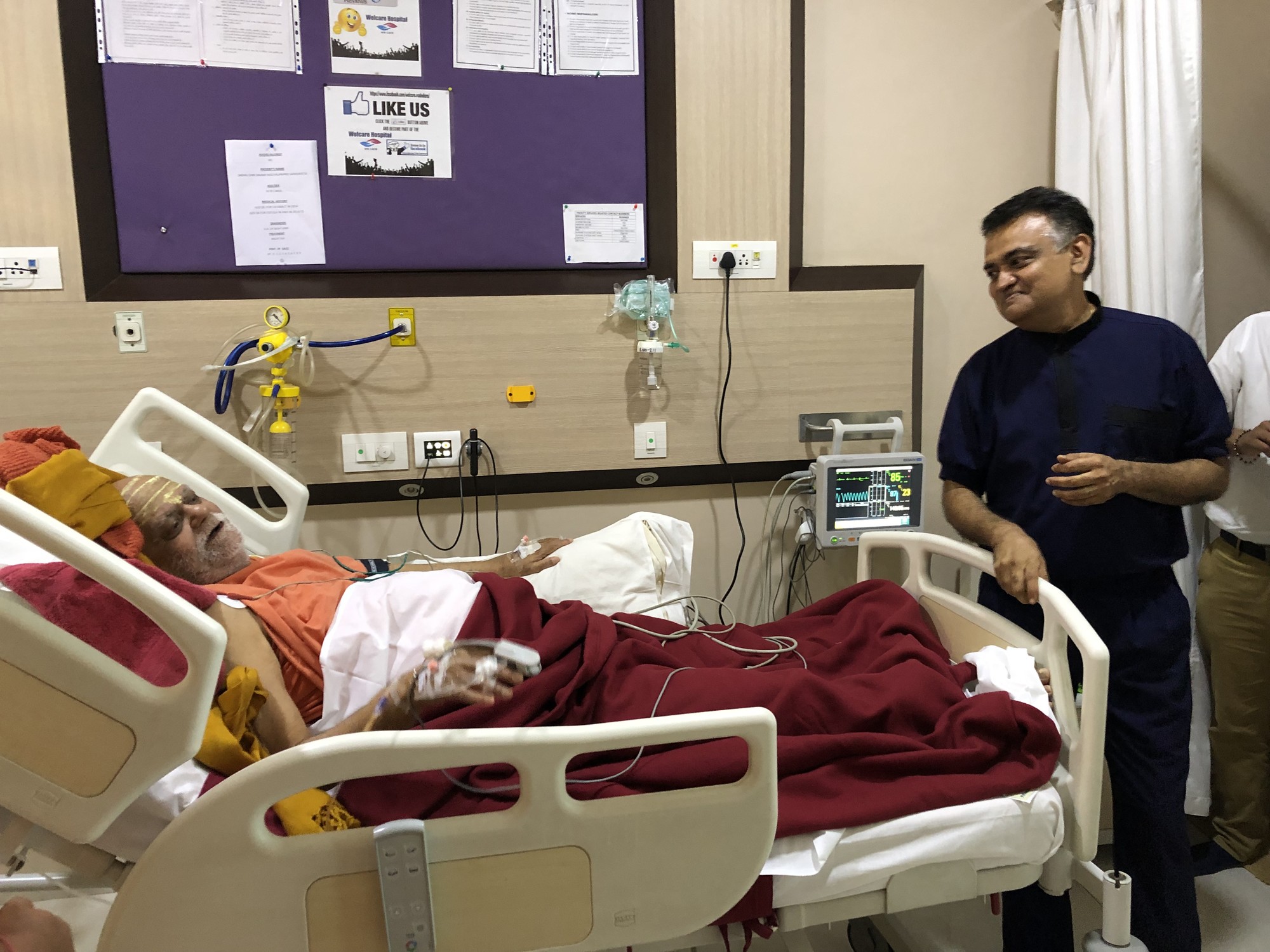 It is now 24 hours since the operation was successfully performed by Dr. Bharat Mody and his team. The team included senior cardiologist Dr. V. C. Chauhan, Intensivist Dr. Ashish Chhatravala & Anaesthetist Dr. Pankaj Mehta. Gurudev withstood the surgery very well. Despite the age of 76 years, his body physiology was that of a much younger person. Dr Mody observed that Gurudev's bone density was exceptionally strong. The operation was performed under regional anaesthesia which allowed Gurudev to be awake and capable of talking with the operating team. In fact, he regaled Dr Mody and his team by describing fascinating incidents of his early life including incidences such as wrestling opponents in the Gomti River and playing football & scoring 9 goals to defeat his own team in a strange twist!
Gurudev walked this morning within 12 hours of the operation. Dr Mody is aiming to help him recover so that Shankaracharyaji can climb the famous Jagannath Rath next month thus keeping intact a tradition of last 2 centuries. The team from Jagannath Matt selected Welcare Hospital for its infrastructure and Dr Mody and his team for his surgical expertise.