Dr Mody Invited to Meet HRD Minister Shri Prakash Javdekar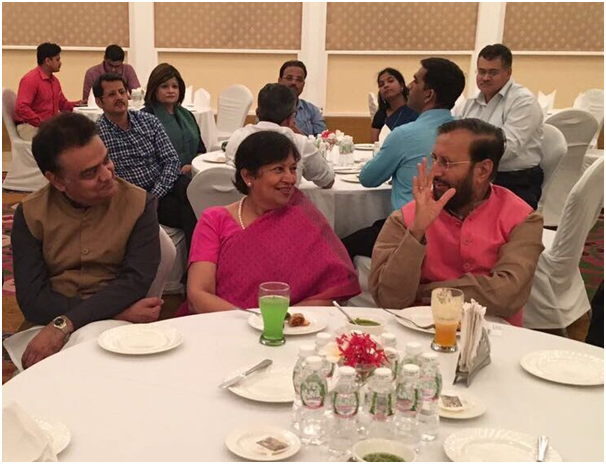 India is experiencing a transformational indirect tax regime in the form of GST. The Central Government is keen to ensure that the roll out is as smooth as possible. Honorable Prime Minister Shri Narendra Modi has advised all senior cabinet ministers to travel to different parts of the country and take one on one feedback about the impact, implications and implementation of this tax from leading members of different sections of the society.
Senior cabinet minister Shri Prakash Javdekar was given the responsibility to visit Vadodara for this purpose. The Chief Commissioner of Customs and Excise, Vadodara was given the responsibility of selecting key people from different sections to have a one on one meeting with the minister. From the healthcare arena the person selected for this important meeting was Dr Bharat Mody.
Dr Mody says, " It was a very good opportunity to convey some of the challenges posed by the new tax regime and at the same time understand from the Honorable Minister the provisions planned by the government to help with the implementation of the GST. It is no doubt a truly transformational taxation method for the country, provided the implementation is successful and some of the small problems are addressed in due course of time." It is to be noted that whilst healthcare is an exempt sector, which means the doctors and hospitals will not have to collect GST from patients for medical treatment, the healthcare provider will have to pay GST on the goods and services which they offer for providing treatment. While most purchases will not have significant increases in cost, certain items like implants will have a 5 % increase under the new system, at least in the state of Gujarat. Most hospitals are trying to absorb this cost without raising the cost of treatment to patients. Welcare Hospital is a good example of this effort by the healthcare sector.
Caption: Dr. Mody discussing GST related issues with Shri Prakash Javdekar, Cabinet Minister for HRD. All seen are other luminaries of Vadodara – Chief Commissioner C & E Shri Arvind Singh, Shri Baheti of Alembic Group, Shri Geeta Goradia, Shri Dilip Shah and others.